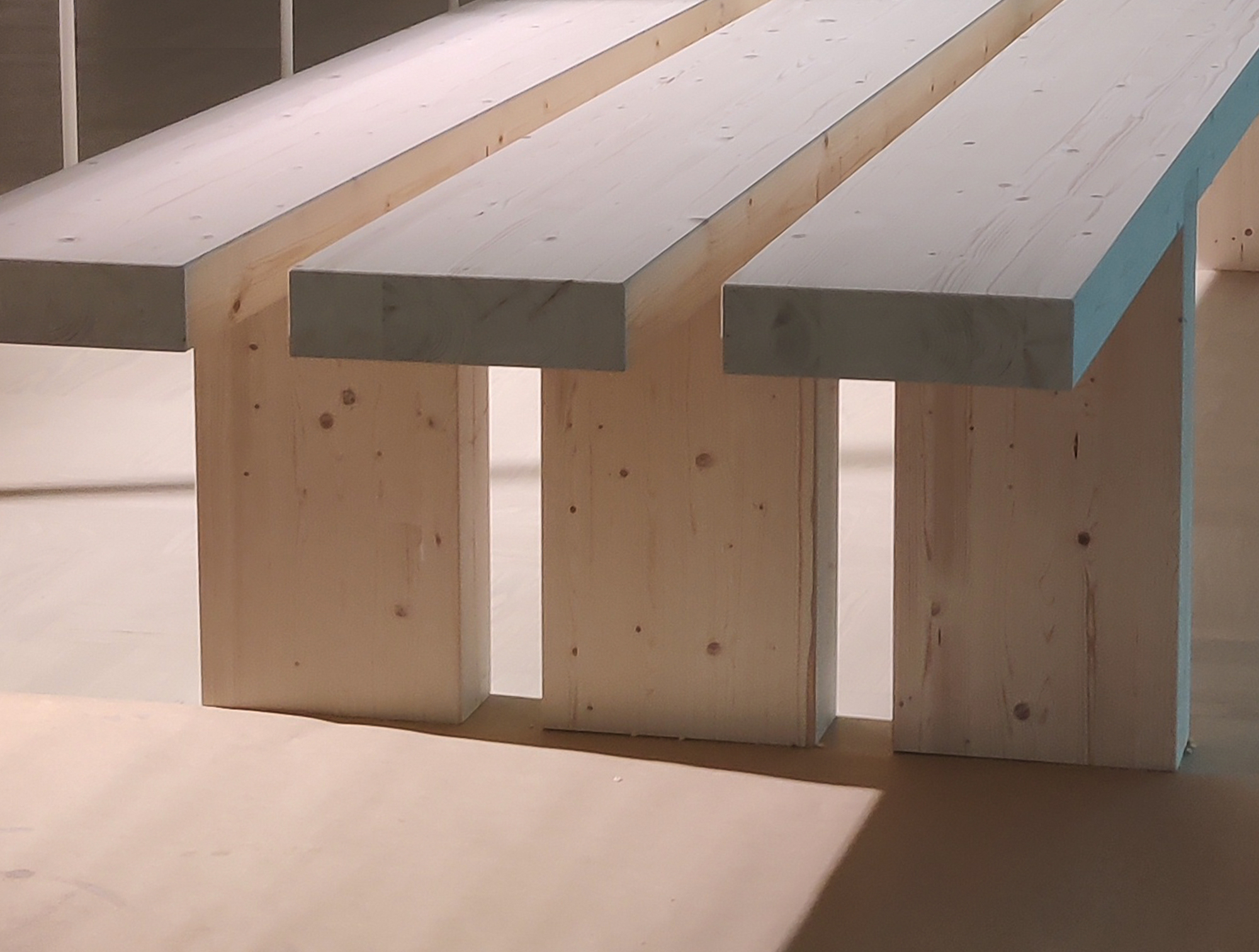 HM HQ
/ Coming soon

Workspace Design
Elektron MKII
Product Design
IKEA Museum Pop-Up H22
/ Coming soon
Retail Design
Härnösand Pavilion
/ Coming soon
Temporary Architecture
Elektron Model Samples
Product Design
IKEA Museum, Home Futures /
Coming soon
Exhibition Design
IKEA Museum, Look Music /
Coming soon
Exhibition Design
Volvo XC40 Recharge /
Coming soon
Retail Design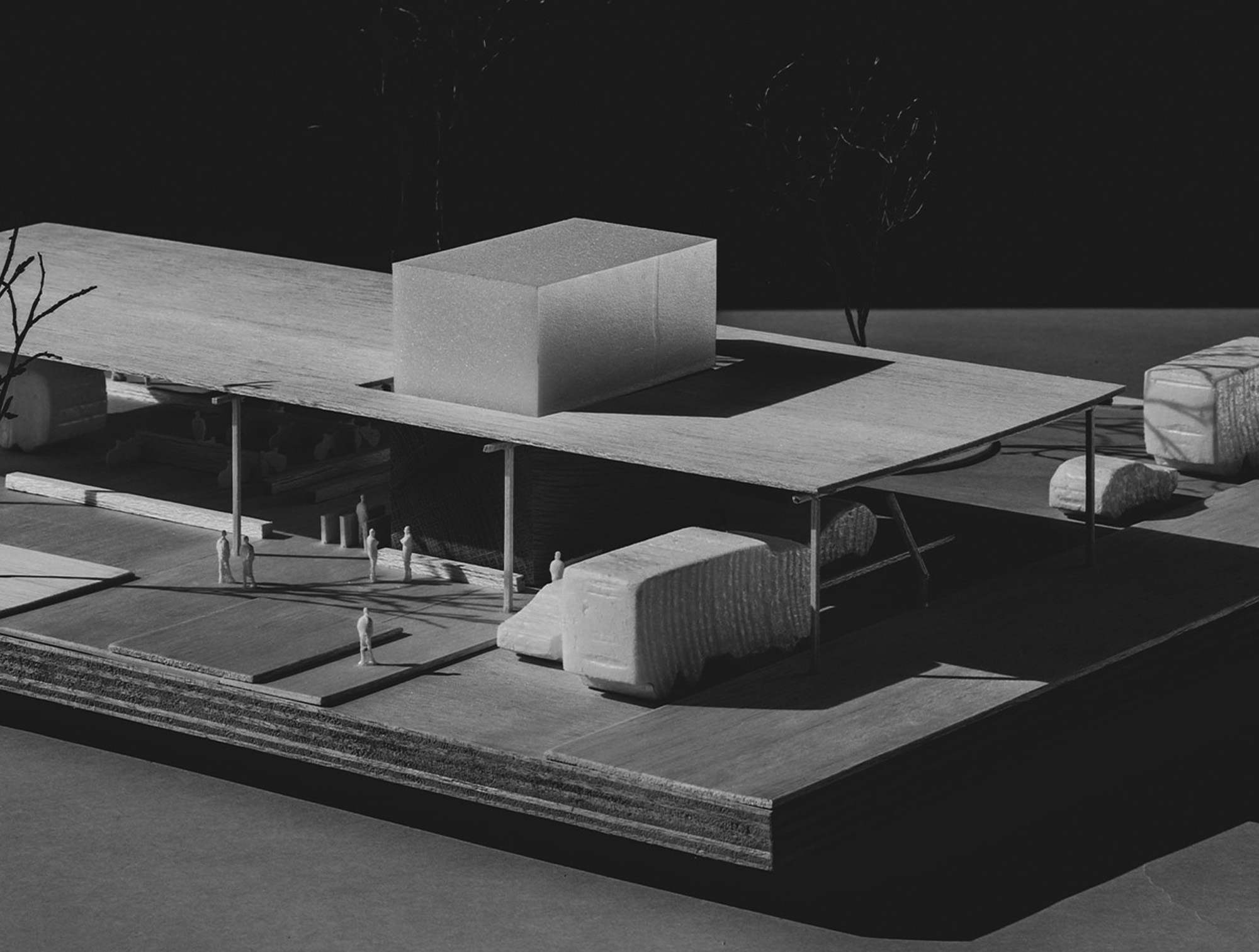 Volvo Campus Gates
/ Coming soon
Architecture
Volvo HQ Signage
/ Coming soon
Industrial Design
Volvo LA Auto Show
/ Coming soon
Exhibition Design
Mevia Mepill
/ Coming soon
Product Design
Volvo Wallbox
/ Coming soon
Product Design
Mevia Medose
/ Coming soon
Product Design
Silent Moto Prototype 01
/ Coming soon
Industrial Design
L:A Bruket Refills

Complementing a strong foundation


Package Design / OP recently collaborated with L:A Bruket, a leading hygiene brand, to develop an innovative packaging solution. We helped L:A Bruket differentiate themselves in the premium hygiene segment by introducing refill packaging in aluminum-look containers, like bags. The advantages are remarkable – the containers are durable, lightweight, and visually appealing. Customers can conveniently reuse a single soap bottle multiple times using cost-effective refill bags.
This approach showcases L:A Bruket's commitment to sustainability, with eco-friendly materials and a reduced carbon footprint. The refill packaging is versatile, available for soap, shampoo, conditioner, balm, and more.
Customers have provided glowing testimonials, highlighting the positive experience of using this eco-conscious solution. L:A Bruket continues to inspire as a leader in premium hygiene with their innovative packaging approach.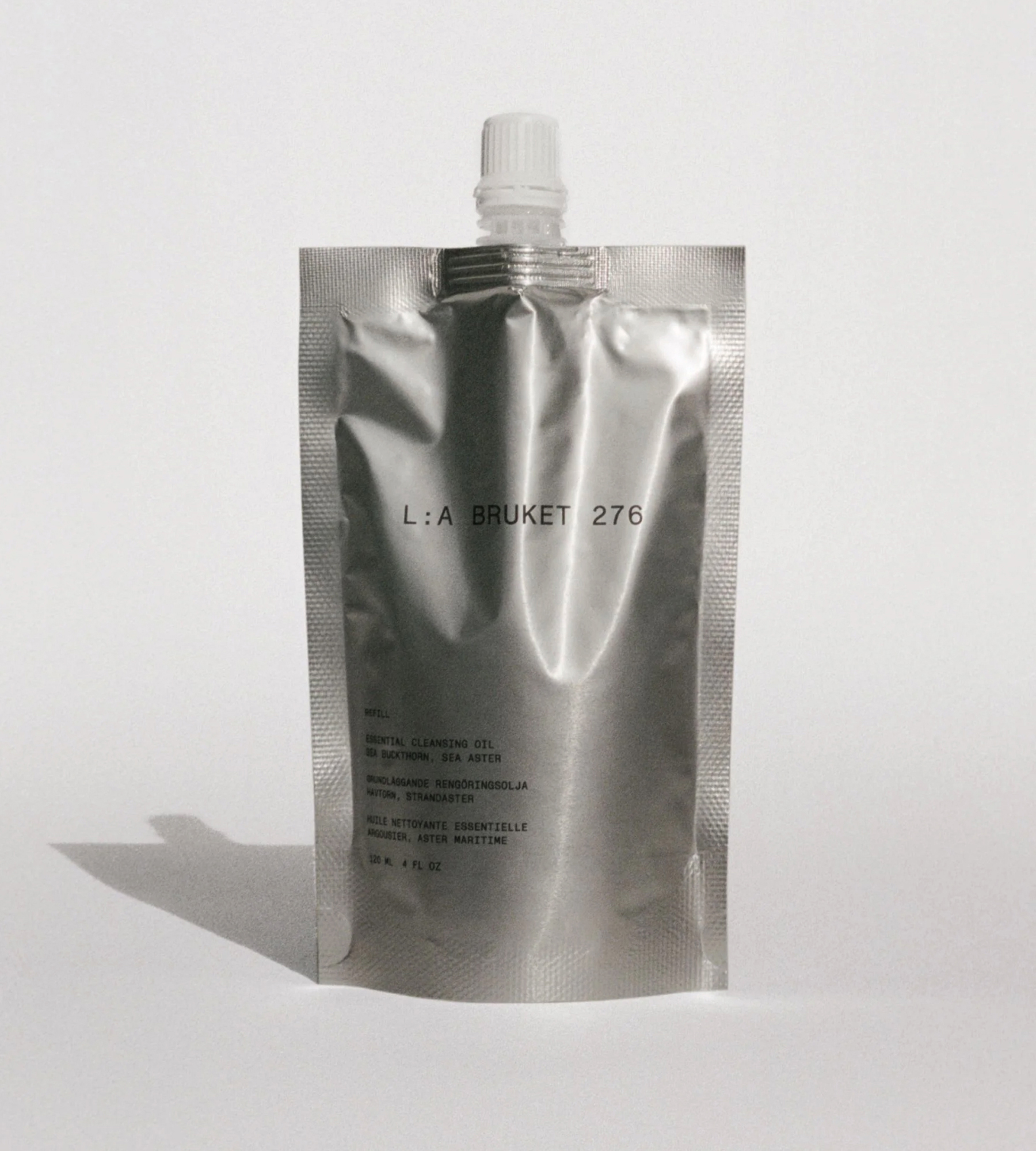 276 Refill Essential Cleansing Oil
Sea buckthorn / Sea aster
277 Refill Mild Cleansing Gel
Willow bark / Birch sugars
OPL1

A simple lamp crafted with traditional techniques

OP recently joined forces with Norrmalms Kartongfabrik, a producer of exquisite packaging rooted in century-old technology. Their collaboration resulted in an extraordinary project during the Stockholm Creative Edition 2023: a desk lamp made entirely out of cardboard.The seamless partnership between Office of Possibilities and Norrmalms Kartongfabrik showcased the synergy between their expertise. The former brought their innovative design thinking, while the latter contributed their legacy in high-end packaging. Together, they embarked on a condensed timeline, swiftly conceptualizing, prototyping, producing, and launching the limited edition lamp, consisting of just 100 pieces.


Buy now
(sold out - restocking in process)
The cardboard desk lamp embodies a range of unique features. Firstly, its eco-friendly materials align with the growing demand for sustainable designs. The lamp's customizable assembly process allows users to personalize their lighting experience, fostering a sense of ownership and creativity. Additionally, the lamp's aesthetic appeal captivates with its clean lines and minimalist design, seamlessly blending into any space.
At the Stockholm Creative Edition 2023, the release of the limited edition lamps created a buzz of excitement and intrigue among attendees. Design enthusiasts marveled at the lamp's ingenuity and commitment to environmental consciousness.The lamp garnered significant acclaim within the design community. Its innovative use of cardboard and its ability to challenge conventional materials received accolades. Positive feedback poured in, praising the lamp's functionality, aesthetic allure, and sustainability.
In summary, the collaborative project between Office of Possibilities and Norrmalms Kartongfabrik achieved resounding success, pushing the boundaries of sustainable and innovative product design. The cardboard desk lamp stands as a testament to the power of collaboration and the potential to reimagine everyday objects with eco-consciousness and aesthetic brilliance.
OPS1

A stool celebrating durability and simplicity

OPS1 is a limited edition stool built to stand the test of time. The robust dimensions and strategic use of wood and steel screws ensure its exceptional durability. With its angled legs enhancing stability, this stool combines functionality with sleek aesthetics.


Buy now
(sold out - restocking in process)
The stool was released during the first edition of BTL (Built to Last), an event hosted by OP togetter with partners from the industry. The event exuded an infectious energy, transforming the workshop into a lively party. Guests reveled in the festive atmosphere, connecting with fellow design enthusiasts. It was an immersive experience, far from the traditional workshop setting, igniting creativity and fostering a sense of community.


Although the initial limited edition has been distributed, there's good news for design aficionados. We are soon releasing an updated design version, promising enhanced features and refined craftsmanship. Be sure to visit their webshop to acquire this exceptional piece of furniture, a testament to their unwavering commitment to quality and design excellence.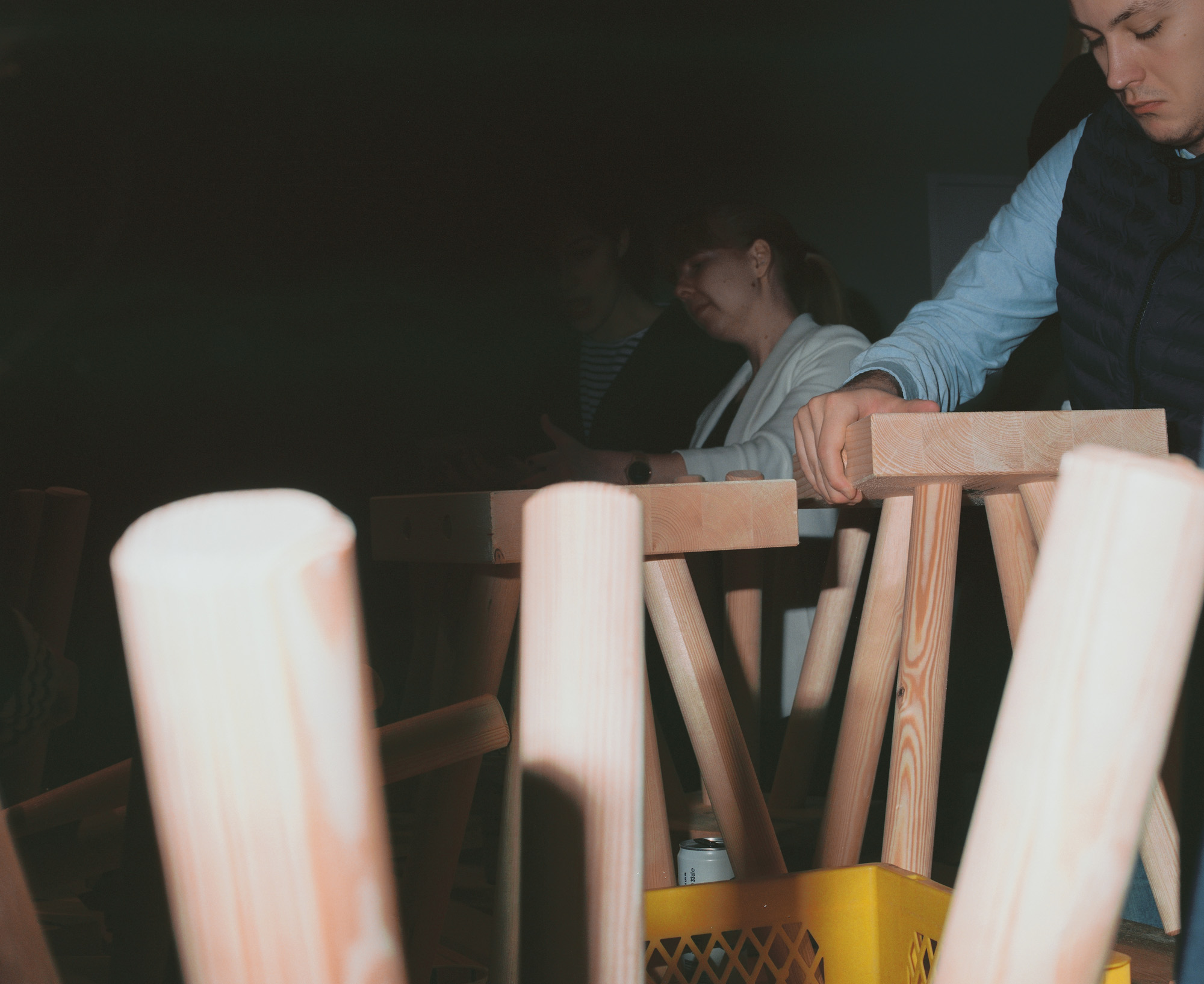 We want to thank everyone that came, we really are overwhelmed by your support, energy and enthusiasm that you all brought!

BTL (Build to Last) is our new forum for creating, building and discussing design & architectures which we hope can inspire and educate. With this edition, we've tried to prove that you can create quality furniture without reinventing the wheel. We used local Swedish wood with honest manufacturing techniques. Rethinking material standards makes us more efficient and affordable. Assembling furniture on site together with beer and friends is a plus but necessary in our books.
You will soon be able to purchase this product through our webshop. (link coming soon)
Deglabbet

Make noice in a saturated pizza market

Deglabbet, the now renowned pizzeria in Stockholm, faced fierce competition in the saturated high-end pizza market. We steped in as brand ambassadors, armed with a powerful idea to set them apart. The iconic yellow pizza delivery box became the symbol of their brand, catching attention from afar. This vibrant color, strategically chosen, made Deglabbet instantly recognizable.

The box went beyond conventional packaging, effectively communicating crucial information like the restaurant's address and heating instructions. We didn't stop there; we crafted a range of stylish merchandise, including caps, hoodies, and t-shirts, perfectly complementing the brand image.
Witnessing our client's satisfaction, it's no surprise they are now opening their third restaurant in Stockholm, a testament to their remarkable growth and the positive impact our design had on their success.
You'll find Deglabbet at: Upplandsgatan 9 (Vasastan), Polhemsgatan 21 (Kungsholmen) and Borgmästargatan 4a (Södermalm) in Stockholm. Follow Deglabbets journey through their socials: @deglabbet